The Original Spirograph Scratch and Shimmer Set
The Original Super Spirograph is back and better than ever! The classic interchangeable Spiro-Tracks let you create your own unique pattern shape... Read more
The Original Spirograph Scratch and Shimmer Set
The Original Super Spirograph is back and better than ever! The classic interchangeable Spiro-Tracks let you create your own unique pattern shape... Read more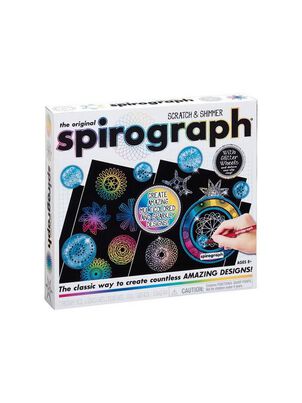 The Original Spirograph Scratch and Shimmer Set
The Original Super Spirograph is back and better than ever! The classic interchangeable Spiro-Tracks let you create your own unique pattern shape
Your flight
Your flight
In order to determine if this product is available for you, we need to know your flight details. Please enter your

flight information

.
Your terminal
Your terminal
Reservation window
Reservation window
The Original Super Spirograph is back and better than ever! The classic interchangeable Spiro-Tracks let you create your own unique pattern shapes, taking your designs to a whole new and SUPER level. This jumbo 75+ piece set comes in a durable storage case with a work surface and features a real metal die-cast #50 Spirograph wheel to commemorate the 50th Anniversary of the introduction of the original Spirograph.

The world's most famous toy store with a unique reputation for choice, quality and innovation.
Shop with confidence, knowing you can return the product within 60 days.
Shopping at the airport is even more enjoyable and convenient than ever before. You may be familiar with the wide selection of shops, fantastic range of products and outstanding value at Heathrow. But did you know that as part of our commitment to providing world class customer service, we also operate a 60 day returns service on behalf of the Heathrow retailers?
See our returns policy for further information about our returns.