Peppa Pig Queen's Guard Plush
They find the title of "Beefeater" somewhat offensive - after all, Mrs Cow and Mummy Pig work very closely together...So, Queen's Guard it is! Wh... Read more
Peppa Pig Queen's Guard Plush
They find the title of "Beefeater" somewhat offensive - after all, Mrs Cow and Mummy Pig work very closely together...So, Queen's Guard it is! Wh... Read more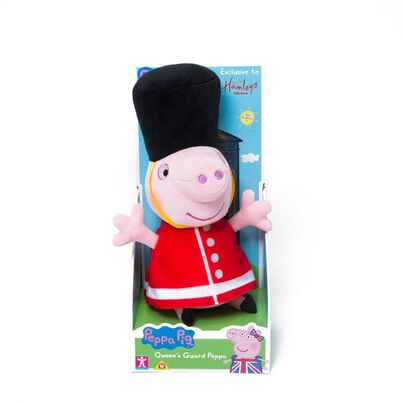 Peppa Pig Queen's Guard Plush
They find the title of "Beefeater" somewhat offensive - after all, Mrs Cow and Mummy Pig work very closely together...So, Queen's Guard it is! Wh
Your flight
Your flight
In order to determine if this product is available for you, we need to know your flight details. Please enter your

flight information

.
Your terminal
Your terminal
Reservation window
Reservation window
They find the title of "Beefeater" somewhat offensive - after all, Mrs Cow and Mummy Pig work very closely together...So, Queen's Guard it is! When she's not splashing about in muddy puddles, Peppa Pig can be quite the diva - it makes sense that a castle residence would suit her down to the ground. Here she is - the Hamleys Exclusive Queen's Guard Peppa Soft Toy - in all her finery, rocking the London-look as you've never seen it before. Eat your heart out, Moss. An oinkingly good Hamleys Peppa Pig exclusive.

The world's most famous toy store with a unique reputation for choice, quality and innovation.
Shop with confidence, knowing you can return the product within 60 days.
Shopping at the airport is even more enjoyable and convenient than ever before. You may be familiar with the wide selection of shops, fantastic range of products and outstanding value at Heathrow. But did you know that as part of our commitment to providing world class customer service, we also operate a 60 day returns service on behalf of the Heathrow retailers?
See our returns policy for further information about our returns.