PRX Powermatic 80 40mm Mens Watch
Tissot strives to provide accuracy and quality at all times through timepieces that have an everlasting style, such as the ones in the T-Classic ... Read more
PRX Powermatic 80 40mm Mens Watch
Tissot strives to provide accuracy and quality at all times through timepieces that have an everlasting style, such as the ones in the T-Classic ... Read more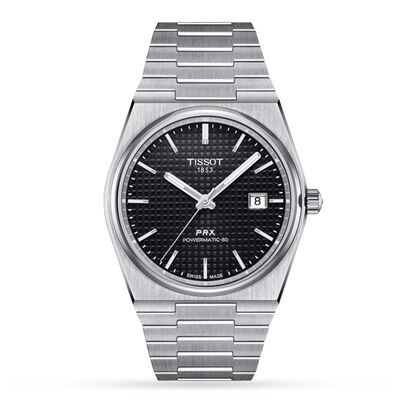 PRX Powermatic 80 40mm Mens Watch
Tissot strives to provide accuracy and quality at all times through timepieces that have an everlasting style, such as the ones in the T-Classic
Your flight
Your flight
In order to determine if this product is available for you, we need to know your flight details. Please enter your

flight information

.
Your terminal
Your terminal
Reservation window
Reservation window
Tissot strives to provide accuracy and quality at all times through timepieces that have an everlasting style, such as the ones in the T-Classic collection. Founded in 1853, Tissot cherishes the beauty and emotionality of classic watches. The fine craftsmanship poured into all Tissot watches is noted among watch makers and enthusiasts throughout the world - view it for yourself either online or in one of our UK stores. Powermatic 80: An automatic watch is powered by the energy of the person who wears it. Wrist movement enables the mechanism to run. The Powermatic 80 movement boasts 80 hours of power reserve, which is enough to continue telling time accurately even if the watch is not worn for three days. It is an innovative movement that outperforms the competition, whose movements general provide 1. 5 days of power reserve. Sapphire: A sapphire crystal gives a watch the following properties: extremely high resistance to impact and superior screen and hand readability thanks to its transparency. Because it is the strongest material after diamonds, it is used in fine timepieces for its anti-scratch prowess. Sapphire crystals can take many forms and give the watch a variety of looks: flat, domed, concave or ground. Water-Resistance: All Tissot watch cases undergo several tests, including a water resistance check. Tissot tests the watch's ability to resist impacts and pressure, as well as the penetration of liquids, gas and dust by replicating the real-life conditions in which the watch may find itself.

Providing premium watches since 1924. Renowned for combining timeless craftsmanship with superior quality and contemporary design to offer the top names in exquisite timepieces. Watches of Switzerland are now offering a fully personalised shopping experience with a dedicated member of the team. To book your appointment please call the store.
Shop with confidence, knowing you can return the product within 60 days.
Shopping at the airport is even more enjoyable and convenient than ever before. You may be familiar with the wide selection of shops, fantastic range of products and outstanding value at Heathrow. But did you know that as part of our commitment to providing world class customer service, we also operate a 60 day returns service on behalf of the Heathrow retailers?
See our returns policy for further information about our returns.