Breakfast Blend 15 Large Leaf Silky Teabags
This is a robust, malty leaf tea from unblended Assam leaves grown in the prized Brahmaputra Valley in Northeast India. The broken leaves make a ... Read more
Breakfast Blend 15 Large Leaf Silky Teabags
This is a robust, malty leaf tea from unblended Assam leaves grown in the prized Brahmaputra Valley in Northeast India. The broken leaves make a ... Read more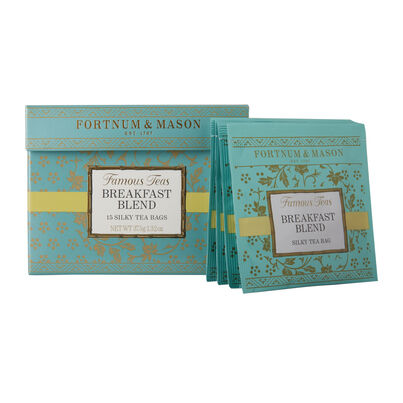 Breakfast Blend 15 Large Leaf Silky Teabags
This is a robust, malty leaf tea from unblended Assam leaves grown in the prized Brahmaputra Valley in Northeast India. The broken leaves make a
Your flight
Your flight
In order to determine if this product is available for you, we need to know your flight details. Please enter your

flight information

.
Your terminal
Your terminal
Reservation window
Reservation window
This is a robust, malty leaf tea from unblended Assam leaves grown in the prized Brahmaputra Valley in Northeast India. The broken leaves make a strong brew with a malty, full-bodied flavour. With a dash of milk it's a great morning pick-me-up. These innovative pyramid bags are spacious enough to hold whole leaves rather than the small cut tea in regular teabags. This makes a difference to the quality of the brew because whole leaf tea has more flavour and complexity.

The ideal destination for jet-setters with a taste for the finest in life, the Fortnum & Mason Terminal 5 store features a handpicked selection of famous Fortnum's hampers, food, tea, tipples and more.
Shop with confidence, knowing you can return the product within 60 days.
Shopping at the airport is even more enjoyable and convenient than ever before. You may be familiar with the wide selection of shops, fantastic range of products and outstanding value at Heathrow. But did you know that as part of our commitment to providing world class customer service, we also operate a 60 day returns service on behalf of the Heathrow retailers?
See our returns policy for further information about our returns.